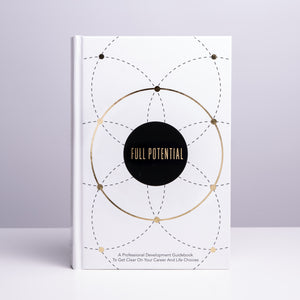 Vekita Full Potential is a step-by-step career clarity guidebook designed for the modern professional.
Full Potential is based on introspective self examination techniques and tactical career advancement tools developed by Nicole over years of research and practical implementation. Readers will experience a cohesive journey from ideation to actualisation, using interactive, engaging tools presented through the perfect amount of written guidance. Vekita Full Potential offers practical tools for connecting to your purpose. It doesn't matter what stage of life you are in, this career counselling guidebook is relevant for college students, mid-career transitions, and even retirees. 
On your journey, Full Potential offers you a robust understanding of who you are, helps you uncover what career would be the best match, and provides tools to actualise your goals. By taking the time to go through this guidebook you will not only gain a framework that is beneficial to your current circumstance, but you will also acquire knowledge and tools for any future changes - allowing you the ability to quickly adapt to changing job markets and/or life situations. After a decade of being submerged in the career development industry Nicole realised that:
The guidance books on this subject only offered splinters of information. Full Potential brings all the parts of career exploration together in one place. You will gain a cohesive experience where you are led the entire way from ideation to actualisation. 
Other career guidance books are 75% reading and 25% personal engagement. Whereas, Full Potential is 25% reading and 75% personal engagement - because understanding who you are and what you want to do has to come from...you!
The content and visual design is for this generation. The visuals are designed to be inviting and inspiring to go through. The content is straight to the point, with just the perfect amount of written guidance and visual aid to help the reader through their journey. 
Vekita Full Potential is the most cohesive resource available on the market and a powerful tool to help obtain a career and life you are excited about. 
Watch the life you want come alive within the pages of Full Potential!       

Purchase your hardcover copy above or grab the 2nd Edition Digital Fillable PDF copy 

HERE

. 
Are you located in Canada? Indigo Books now carries our guidebook. Click HERE to purchase. 
Join our online course to walk you through the process! Click HERE to enroll  
Praise For Full Potential 
 "Nicole Serena Silver's book, Full Potential, is brimming with user-friendly and profoundly useful guidance - from exploration of defining patterns in our lives, to the process of aligning with passions and potentials, to the rubber-meets-the-road work of goal-setting. I offer her a hearty high-five."

Gregg Levoy
Author of Callings: Finding and Following an Authentic Life (Random House) and Vital Signs: The Nurture and Nature of Passion (Penguin)
"This interactive guidebook is a game changer from everything else out there. Full Potential has a well rounded approach incorporating all the pieces you need to identify your best career and life choices. What do I want in life? Who am I? How does that align to my career? This book inspires you to pause and self-reflect but doesn't stop there. It also provides you with practical exercises and tips to translate inspiration into action. I have used activities out of Full Potential with clients who have found them invaluable with identifying their path."
       Kristin Muellner
       Professional Coach
       Customer Storytelling Director at SAP
"Full Potential is a brilliant, engaging guide to one of the deepest questions we can ask: What is my purpose, and how can I fulfil it? Travel with author Nicole on this journey full of inspiration, insight, and guidance to help you discover your full potential."
        Dacher Keltner
        Founder and Faculty Director, Greater Good Science Center 
        Professor of psychology at the University of California, Berkeley
"Full Potential puts forth the wisdom and hands-on work to support you with identifying a career that bridges who you are and your lifestyle choices to create your ideal life. This guidebook lays out the canvas upon which you will paint the path forward toward the most alive expression of yourself. We each hold the power to choose to create an aligned life for ourselves. The fact that you are reading this indicates you are already in touch with that truth."
         Oren Shai 
         Senior Team Performance Coach at LinkedIn
CLICK HERE FOR ADDITIONAL GUIDEBOOK TESTIMONIALS