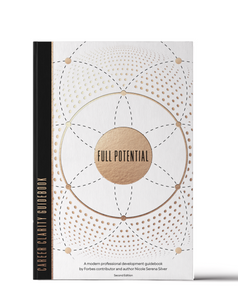 Don't want to wait to get started on plotting your ideal life? No problem, we got you.
PLUS you get the 2nd edition which has not yet been released as a hard copy. We also made this PDF version fillable for ease of use! Get the downloadable version and start designing your life right away. 

*This is a PDF download. Only one download per person is permitted. After you have made your purchase you will receive an email from SendOwl with your digital copy. May it bring you joy! 
Vekita Full Potential is a step-by-step career clarity guidebook designed for the modern professional.
Full Potential is based on introspective self examination techniques and tactical career advancement tools developed by Nicole over years of research and practical implementation. Readers will experience a cohesive journey from ideation to actualisation, using interactive, engaging tools presented through the perfect amount of written guidance. Vekita Full Potential offers practical tools for connecting to your purpose. It doesn't matter what stage of life you are in, this career counselling guidebook is relevant for college students, mid-career transitions, and even retirees. 
On your journey, Full Potential offers you a robust understanding of who you are, helps you uncover what career would be the best match, and provides tools to actualise your goals. By taking the time to go through this guidebook you will not only gain a framework that is beneficial to your current circumstance, but you will also acquire knowledge and tools for any future changes - allowing you the ability to quickly adapt to changing job markets and/or life situations. After a decade of being submerged in the career development industry Nicole realised that:
The guidance books on this subject only offered splinters of information.

 

Full Potential

 

brings all the parts of career exploration together in one place. You will gain a cohesive experience where you are led the entire way from ideation to actualisation. 
Other career guidance books are 75% reading and 25% personal engagement. Whereas,

 

Full Potential

 

is 25% reading and 75% personal engagement - because understanding who you are and what you want to do has to come from...you!
The content and visual design is for this generation. The visuals are designed to be inviting and inspiring to go through. The content is straight to the point, with just the perfect amount of written guidance and visual aid to help the reader through their journey. 
Vekita Full Potential is the most cohesive resource available on the market and a powerful tool to help obtain a career and life you are excited about. 
Watch the life you want come alive within the pages of Full Potential!